Jun.03, 2015
ELENA WOLAY –  JAZZ ÄR FARLIGT – DISCAHOLIC INTERVIEW MAY 2015
Are you an official discaholic? Is there such a thing? What would categorize a discaholic?
Yes, there are such a thing as discaholics. Discaholics are People who do, and people who absolutely do NOT know how the get their priorities right.
People who spend hours finding the right records, and people like me who can totally lose it over losing an Ebay or Tradera auction..
I would like to categorize male "discaholics" in different categories, such as:
-The Vertigo-guys with "I love discogs" t-shirts who are constantly farting at record fairs (oh yes, they do exist, and they do love the record fair in Husqvarna, Småland).
– "Progressive-collectors", that only wants to talk about the good old days and Gump classics.
– New "Prog rock fans", who keep calling all the old prog musicians in Sweden, never making an interview or anything, just emptying everyones record collections, paying them about 7 SKR for records worth 14 000 SKR.
– Hard rock fans with Ice Cross patches on their jackets, wishing they actually played in Ice Cross.
– I don't need to talk too much about the old jazz enthusiasts buying 78's.  They do exist and isn't that just great……………..!
– I do love the shy, quiet characters, those that order everything online, and preferably from the electro-acoustic and industrial scene. There's a reason why they do it. Reality is too harsh on these lovely creatures.
– Last AND least… Discaholics who never play their records..
You do vinyl DJ- ing, fanzine and club  activities under the name "Jazz är Farligt" ( Jazz is Dangerous ) – why and how is jazz dangerous ?
Can jazz be made even more dangerous?
– Jazz will always be dangerous. Not only because it is the only musical genre that has so many sub genres and is developing so fast and in so many different directions. The sub genres are also so wide and different, depending on who You ask and yes, Jazz will be more dangerous..
How come you started to collect vinyls? What is it in the grooves?
– The first records I got when I was about 13 my first collection disappeared though in one of my many moves. Years after that I started collecting records again mostly because I loved the music, but also because I love the format.
It really got going when I started arranging gigs, events and playing records in clubs when I was about eighteen. Then it started escalating… fast!  I mean, really fast and I was playing records about six days a week and I was buying records every day..
Is Philemon Arthur & The Dung the best children music album ever?
Is Philemon Arthur & The Dung the best adult music album ever?
-Yes and yes! And on top of that, the group got awarded a "Grammis" in 1972. (The Swedish "Grammy Awards") As a result of the protests against Philemon Arthur and The Dung getting the award, the awards were cancelled all until 1978! YEAH!
Every record for children should do things like that!
Did you follow anyones example? Did you have a (role)model when you started DJ- ing and collecting?
Many! When I moved from "Swedens Jerusalem", Jönköping, the unofficial "Christian Capitol" of Sweden when I was eighteen years old, I more or less broke all contact with my family. On the music scene I soon met garage rock queen Anette Ericson from the band Voladoras. The first time we met she said "if I had a daughter, I wish she was exactly like You!" So she kind of adopted me. Today I have my own "girl's room" at her and her boyfriend Måns Månsson's place and I get to share a room with their LP collection.
Around that time I also met my extra-punk/new wave-dad, Marcus Törncrantz, who gave me the nickname "Hatti"
Marcus (Törncrantz) was the manager for bob hund for about 22 years, has been setting up clubs, playing records everywhere and has the most genius post punk/ new wave collection I have ever been touched by.
And then I met Conny Lindström… Conny has supported me and my record collecting habit. He gave me a monthly fee to buy records to renew my set when I was resident DJ at Strand Hornstull and yes, he was CEO over the venue. Amazing, right?
But the list goes on…
Can one dance to free jazz really? Can one party to abstract free british improv?
– I saw Phil Minton dance until he fell to the floor, at the same time as he was impro-singing to one of my sets at unlimited Wels. It was fantastic! If Phil Milton can do it, everyone can!
Fav formats ?
– Mmmmmmmmmmm flexi!
What gives you the buzz?
– To win a bidding over a wrinkled penis
What single record find would really kick you off?  What is your dream find:
– 7", Åke Hodell – Brainwash
Of existing vinyls ?
– 7", Åke Hodell – Mr Nixon's dreams
Of non- existing vinyls?
– 7", Åke Hodell together with Bruno K Öijer and Sun Ra.
How do you buy your records mostly?  eBay? Local shops? Internet shops? Friends?
– Friends and local shops. Gotta love Sweden for the great local record shops.
Is trading records the most fun you can have with your clothes on?
Is trading records the ultimate intimacy?
– I never traded a record in my life and would never do such a thing.. I'm way too attached to them…
Describe a perfect hunting day!
Or a weird hunting day? I was one my way to Fylkingen together with Conny (Lindström) one night and totally forgot that I was playing at another venue not that far away together with the Swedish progressive band and discaholics, Dungen. The problem was that I didn't have any records with me.
I simply bought a new record bag with everything from Fylkingen second hand record shop.
Perfect night and evening.
I love Fylkingen.
How do you sort your collection? Alphabetical? Genre? Chronological?
– I don't sort my collection. Maybe because it's always updated and I still am djing quite often. Ok, It's a mess. A dangerous mess that no one ever are permitted to touch.
Can discaholism be cured? If so, how ?
– To stop collecting I think something really dramatically has to happen your own collection… Like a house fire.
What record can set off a war?
– Any Ethiopian record in Eritrea.
What record would create world peace?
– Larry Saunders – Free Angela
Matt? Glossy? Laminated? Plain? Silk screened?
– Matt
What record has changed your life most dramatically?
For the best, bäbi – milford graves.
For the worst, The Bear Quartet. All of their records.
What record is closest to sex?

– Lena Skoog – Oh, Älskling – Ta mig inte nu
Which one is no sex at all?
– Broder Daniel – Shoreline
What record do you wanna steal from my collection?
Lasse Werners first EP.
Do you have a special record bag with you when you shop? waterproof? earthquake proof?
– Fylkingen tote bag.
What is your favorite record shop in the world?
Why?
– I also used to sleep over at record shop Linné Skivbörs.. Those where the days. So for the hospitality I'll go for Linné Skivbörs if I have to choose.. (So sorry Record mania and An ideal for living)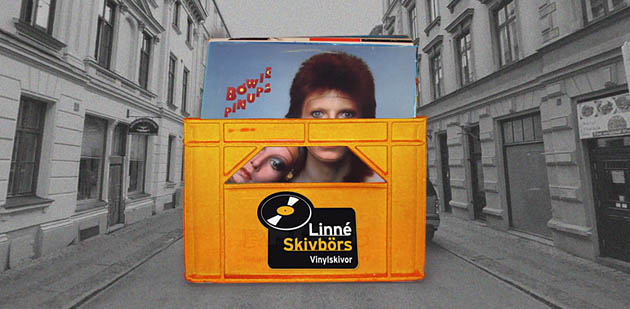 Favorite city for vinyl hunting?
– Stockholm and Gothenburg!
Give us a list of your 5 favorite:

7"´s/ EP´s?

Äppelkartes – Skjut lillbabs,
Massmedia – Sveriges Radio,
HFOS – Gubbkärring,
CCCPs – Olof Palme.
Mental Sacrifice – Mentalsjuk
Floor fillers ?

Ennio Morricone – Svolta Definitiva
Silver Apples – Oscillations
Joe Mcphee – I'ts Nation Time
The Kurws – Tanz Mitt Kommune
The Slits – Slime
Party killers…what music would just stop/ kill  a successful party / club evening ?
I played one side of "The too much too soon Orchestra" – Saw
Once at Strand Hornstull during a opening of a really bad private party. Party was over and unfortunately they threatened to beat up my dj-partner and legendary punk-drummer Jonas (Jonsson) instead.
That happens to him a lot… Poor guy.
Is this interview too long?
– No.
Why arent there more female vinyl collectors around?
What can encourage more women to collect?
Why is this mostly such a male behaviour? Or is it ?
– Because men are assholes most of the time.
Why should one encourage women to collect. Collecting records is quite stupid anyway.
As a female DJ and collector with an ethnic african background – are you met with curiousness in general? Or do you find skepticism and racist attitudes when you work and when you hunt for vinyl?
– curiousness in general, skepticism and racist attitudes, All of above.

I find your DJ- ing and general attitude very liberating and wide open – are people provoked by your mix of music while DJ- ing? When you mix old swedish progg/ psych/ punk rock music and mindblowing funk with blasting free jazz or noise mayhems?
– I think people are provoked by my sets mainly because the music I'm promoting is quite………………………………. white.
When I was younger I used to agree with bookers that the main genre I was playing was "soul-music".. And then they heard me play….
Who is the most unexpected guest on your dance floor that you had while spinning vinyls?
– Hmmm.. Maybe hip hop-producer Timbaland.
What in your discaholism behaviours and doings havent you told us about yet? Anything you want to share with us?

– I love the smell of unplayed records In the morning.
Who do you wanna see get interviewed in this serie of discaholic interviews?
– Måns Månsson (The Crimson Shadows), Anette Ericson (Voladoras), Marcus Törncrantz (Playboy Marse), Jonas Jonsson, Micke Goulos, August Ekström, Jockum Nordström and many more..
What vinyl makes you smile EVERYTIME you  see, hear and feel it?
– Lasse Werner och Hans vänner. I really love Lasse. I actually cried once when I tried to describe him to strangers in a bar in Gothenburg. Yes, I was drinking wine. But oh I love Lasse! And yeah.. Almost forgot, International Harvester – Sov gott Rose–Marie!