Aug.19, 2017
today aug 19th —– FIRE! ORCHESTRA performing the piece RITUAL in stockholm
at the 40th anniversary BANG of Jazzclub Fasching, Stockholm.
in vitabergsparken!
http://www.fasching.se/evenemang/vitabergsparken-fire-orchestra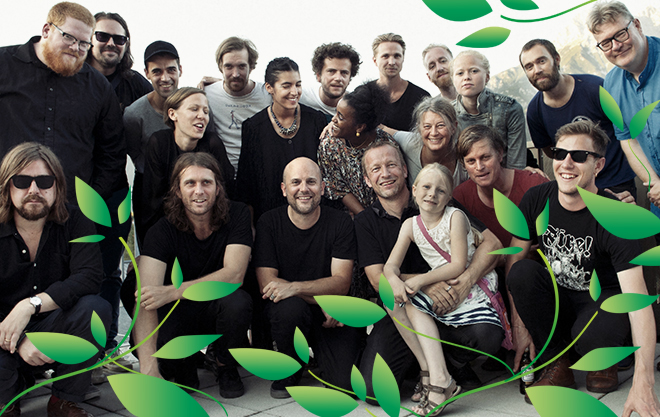 after massive touring activities in 2016/17 — RITUAL will be performed for the last time this year!
Mariam Wallentin – röst
Susana Santos Silva – trumpet
Henning Ullén– trumpet
Mats Äleklint – trombon
Hild Sofie Tafjord – valthorn
Per Åke Holmlander – tuba
Mats Gustafsson –  barytonsaxofon och dirigent
Anna Högberg – altsaxofon
Mette Rasmussen – altsaxofon
Lotte Anker – tenor- och sopransaxofon
Per Texas Johansson – klarinetter och barytonsaxofon
Jonas Kullhammar – bassaxofon och braithofon
Julien Desprez – gitarr
Finn Loxbo – gitarr
Edvin Nahlin– keyboards
Andreas Berthling – elektronik
Johan Berthling – bas
Andreas Werliin – trummor
Mads Forsby – trummor
Mikael Werliin – sounds
&
be prepared… it aint over yet:
the new FIRE! ORCHSTRA starting up activities and preparing for 2018!
the 4th version of the orchestra since its start!
in connections with space….. thursday 24th aug!
all about strings and clarinets!
in Stockholm, Sweden at the stockholm acts festival!
Mariam Wallentin – vocal
Sofia Jernberg – vocal
Anna Lindal – violin
Leo Svensson – cello
Josefin Runsteen – violin and vocal
Katt Hernandez- violin
Per Texas Johansson – clarinets
Christer Bothén – clarinets
Isak Hedtjärn – clarinet
Alexander Zethson – piano
Susana Santos Silva – trumpet
Mats Gustafsson – saxes
Johan Berthling – el bass
Andreas Werliin – drums
Mikael Werliin – sound
more updates to come, tourdates, recordings, projects etc —
and a totally updated website SOOOOOOON!
http://earthwindand.com/wp/
with FIRE! ORCHESTRA