May.27, 2012
Neneh Cherry: 'Jazz can be the way you make love'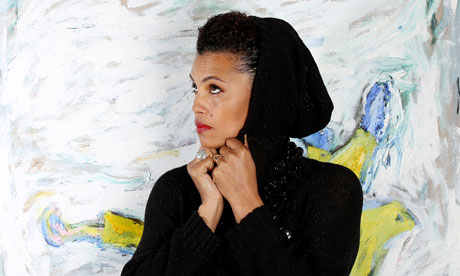 'She can kick the music in all directions' … Neneh Cherry. Photograph: Graeme Robertson for the Guardian
Neneh Cherry, who stormed into the 80s with Buffalo Stance, is back – with an avant-garde jazz album. She tells Jude Rogers why it took her so long
Neneh Cherry sits in her manager's fashionable office, wearing a necklace made out of a mousetrap that swings around as she speaks. Behind her, pinned to a wall, there is a calendar featuring a topless woman. "That's kept me going today," laughs Cherry, her corkscrew hair looking much the same as it did in 1988, the year her hip-hop-influenced single Buffalo Stance made her a star. Musically, Cherry has travelled a long way from those days. Next month sees the release of her new album: a collection of free-jazz, avant-garde covers.
The Cherry Thing is the result of her collaboration with Norwegian/Swedish jazz trio the Thing, known for their punkish live performances: frontman and saxophonist Mats Gustafsson regularly sprays the front row of his audience with spit. To those who only remember Cherry at the height of her fame (she had four top 10 hits, including No 1 charity single Love Can Build a Bridge, with Cher and Chrissie Hynde), it sounds like a bizarre union. But once you delve into Cherry's background, it begins to make sense.
Cherry, half-Swedish on her mother's side, was brought up in a hippie commune in Sweden. Before her fierce pop years, she was in female punk band the Slits, then in post-punk group Rip Rig & Panic. In the last decade, Cherry has also made music away from the mainstream as part of CirKus, a downtempo collective that includes her husband, the producer Cameron McVey. Most significant, however, is the connection with her late stepfather, legendary jazz trumpeter Don Cherry: the Thing are named after a track from his 1966 album Where Is Brooklyn?
Cherry, now 48, is in buoyant mood. "I'm really proud of what we've done," she says of the collaboration that began two years ago in Stockholm, when McVey and a colleague returned, excited, from a Thing gig. "They came back going, 'I think that's your band.' I was like, 'What are you talking about?" She rolls her eyes. "But OK, fine." Cherry started hanging out with the trio; she began writing for the first time in years. "I started feeling a sense of urgency. 'OK, I'm going to close the doors and sit down. I want to make a solo record.'"
Cherry's last solo album, 1996's Man, produced an international No 1 single: Seven Seconds, a duet with Youssou N'Dour (recently appointed the culture and tourism minister of Senegal). Understandably, she is feeling the pressure. "I didn't want to have people going, 'Here comes Neneh's solo album! She hasn't had an album out for 16 years!' The kind of focus that was going to demand – it wasn't where my head was at." So she linked up with Oslo-based label Smalltown Supersound, home to such artists as Norwegian pop princess Annie and space disco pioneers Lindstrøm and Diskjokke. "And then the Thing were really up for doing something together, which was a massive honour. I feel a righteous connection with the wildness of what they do."
Luckily, the Thing feel it, too. A few days after our interview, Gustafsson sends me an email from Japan, where the band are touring. It is a riot of exclamation marks. "She is the most amazing singer I have ever worked with! Period! Because she can really kick the music in all directions."
Cherry and the trio recorded the album over four days last November. That's a long time for a free-jazz band used to doing everything in one take, says Gustafsson – but quite the opposite for Cherry. Nor did it take place in a big-budget recording suite, but in a small studio in west London. "We were smoking roll-ups in the stairwell," grins Cherry. "I was half-listening to Martina Topley-Bird's Too Tough to Die on my laptop. Then we discussed tempo, they worked out roughly what they were going to do, then we just went for it." She widens her eyes. "I was a bit shell-shocked."
The band had 50 songs in mind; the final album has 10, all twists on an impressive variety of material, including that Topley-Bird tune played on the stairwell and one original Cherry composition, Cashback. "The tunes stretch out, they go where they go, but we wanted the whole record to feel like a bit of a punch. It's fairly wild, but also fairly compact." Particularly good are a stunning, languid cover of Dream Baby Dream by electropunk duo Suicide, a stuttering take on hip-hop artist MF Doom's Accordion, and a nerve-jangling attack on the Stooges' Dirt. Movingly, it also includes a cover of Don Cherry's Golden Heart.
Cherry says she now feels able to deal with the legacy of her stepfather, a man who played with Ornette Coleman and John Coltrane. They were always close, she says. "The way he made music – that is something I have always had with me, but I haven't contemplated it so much. Now I've maybe journeyed into it." He died just before Man came out, and just before her youngest daughter, Mabel, was born. "Two days before he died, he sat with his hands on my stomach. It was like he was sending his last energy into her." She is clearly moved. "Sometimes I look at her and think, 'I wish you could have met him.' But you know, he's still there."
She felt scared about exploring this bond through music. "I felt an immense … you know, I really wanted to do it right." It helped that musician Christer Bothén – who first introduced Don to the Malian "hunter's guitar", an instrument he played on Lou Reed's 1979 album The Bells – performed on Golden Heart with them. "Just hearing his sound, because they used to play together all the time, is like hearing a lullaby."
I mention how revelatory it was to me, as a young girl, seeing Cherry performing Buffalo Stance on Top of the Pops while pregnant (with her second child, Tyson). She recounts the press furore with glee. "I remember some doctor saying that what Neneh Cherry's doing could cause her child harm, that sort of bollocks. But I feel really proud of having done that. I didn't feel being pregnant took anything away from my sexuality, who I am, the woman. It felt like a positive thing to celebrate it."
These days, she feels like a jazz musician. It's a genre that seems to have seeped into her way of life, at least if her explanation of it is anything to go by. "Jazz can be the way you make love one night," she says, "or something that you cook." She laughs, and that mousetrap necklace swings again.